Embroidered and Woven Patches
Badge Creation are a leading designer and supplier of all types of patches and have supplied many blue chip companies and all types of organisations with 1000's of bespoke designs over the years. From patches for school blazers to custom designs for a global sportwear company, we can create and deliver highly professionally finished patches throughout the UK and worldwide.
Depending on your design and preference we can advise if our Embroidered Patches or Woven Patches would be more suitable to showcase your artwork.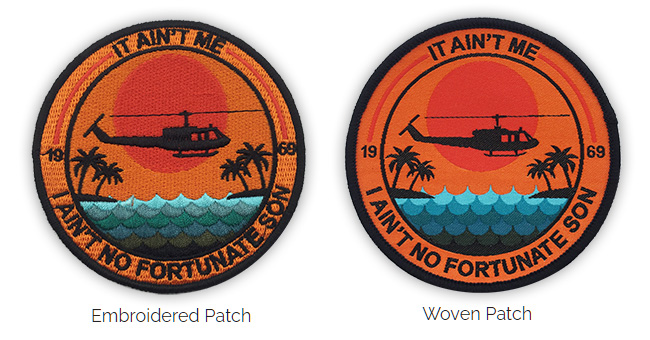 Your patch can be produced with various backings:
Iron on
Adhesive
Velcro
Sew on
The best application method depends on what garment or product the embroidered or woven patch is for. We can advise on all of this.
Woven Patches
When intricate detail and text is required, we usually recommend woven patches. Woven patches are more closely threaded and clearly represent a more dynamic reproduction when exact replication of artwork is of great importance. As these patches are tightly woven, the finished item is thinner and flatter than its embroidered counterpart, and smaller sizes can be achieved very effectively.
Embroidered Patches
Embroidered patches on the other hand, give a more 3D look as the threads are heavier, making the patch feel thicker. You would associate an embroidered patch as probably a more common and authentic patch. However, as mentioned, this is not always what would look best for your design which is why we can advise you on choices so that you always receive the best product possible.